Who's ready to move on from 2020? We know we are. This year has presented an array of incredible challenges to businesses- the transition to working from home, quarantine, PPP loans, and more. 
2021 brings hope of better days. It appears we are moving into the end stages of the pandemic. Many people took their newfound free time and applied it to start their own brand or business. The 2020 personal start-up revolution will bear fruit in 2021.
To that end, we're excited to announce our Five Deals of the New Year to support your brand or business so that you can start 2021 with a bang. Each of these deals is specially designed to help penetrate the digital market to build your online presence. 
We are committed to the long-term success of our clients and their businesses- our goal is to continue to be a reliable and trustworthy partner to which you can turn should any digital needs arise. Your business's prosperity is always our main goal; we are here to do the digital work, so you can focus on what you do best!
The DataDay Design Five Deals of the New Year:
1- Website Build + One Month of Social Media Management – $1,000
Perfect for the established company making their way into the online marketplace.
(Regular $1,900 Value)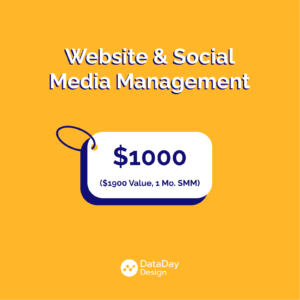 2- Logo + Website Design – $1,400
For those early-stage start-ups and side hustles that are developing their brands and don't have technical or design staff.
(Regular $2,000 Value)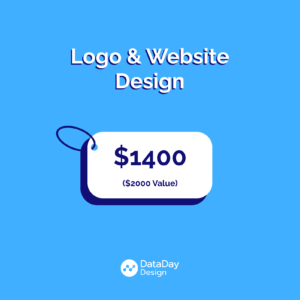 3- Three Month Digital Strategy Consultation + Social Media Management – $1,800
If you are an established company looking to refresh your digital presence and better engage with your customers, this deal is for you. 
(Regular $3,300 Value)
4- Alternative Revenue Consultation + Three Month Digital Strategy Consultation – $1,800
The pandemic has hit many businesses hard. If you're looking for new ways to bring in revenue, this package will ensure you have cash flow in the coming months.
(Regular $3,000 Value) 
5- Logo + eCommerce Website Design + Three Month Social Media Management – $1,800
The full suite: you're looking to take your business' online presence to the next level! We'll help you with a full re-brand, plus help market your new image with three months of social media management.
(Regular $3,000 Value)
If you'd like to view a selection of our previous work you can do so here.
If you're ready to go, click the button below to get started on your digital journey!